Over the weekend, thousands of anti-LGBT protestors from the Frente Nacional por la Familia hate group stormed the streets of Celaya, Guanajuato rallying for "pro-family" beliefs. The group opposed the approaching passage of marriage equality in Mexico.
Although they showed up in full-force, all it took was a 12-year-old boy to stop them in their tracks. Photojournalist Manuel Rodríguez captured the moment in a breathtaking image.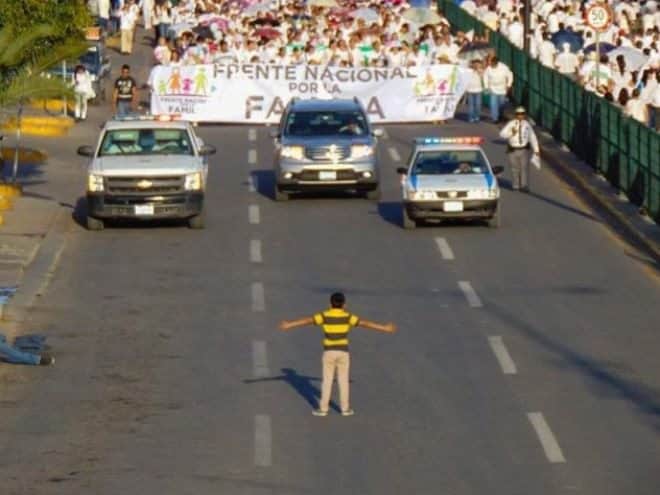 In an interview, Rodríguez told Regeneracion, "At first I thought the child was only playing," but he later learned that the boy had a reason for taking on the protestors. The boy explained in an interview with Rodríguez, "I have an uncle who is gay. I hate that they hate him."
Related: ISIS Executes Four Men Suspected of Being Gay
Despite the pressure from groups like Frente Nacional por la Familia, Mexico City and nine of Mexico's 31 states legalized same-sex marriage. states. Recently, President Enrique Peña Nieto vowed to include marriage equality in Mexico's constitution.
Editor's Note: This post originally contained a video which is no longer available and has been removed.