"Accidents happen. It was your first time being gay did you really think you weren't gonna make any mistakes?"
The trailer for Zachary Quinto and Lukas Gage's hilarious R-rated comedy Down Low promises some extremely gay chaos. So far, audiences can expect at least one naked Quinto, one happy ending, and one dead Grindr hookup.
Down Low is a "chock full of tastelessness"
The official synopsis reads: "A deeply repressed man, the uninhibited young man that gives him a happy ending, and all the lives they ruin along the way." Quinto plays Gary, a divorcee attempting to take back his life and live out the queer dreams he has repressed for 50 years. That's where he meets Cameron (Gage), a sex-working twink who gives Gary an unforgettable massage and then decides to help him take charge of his life.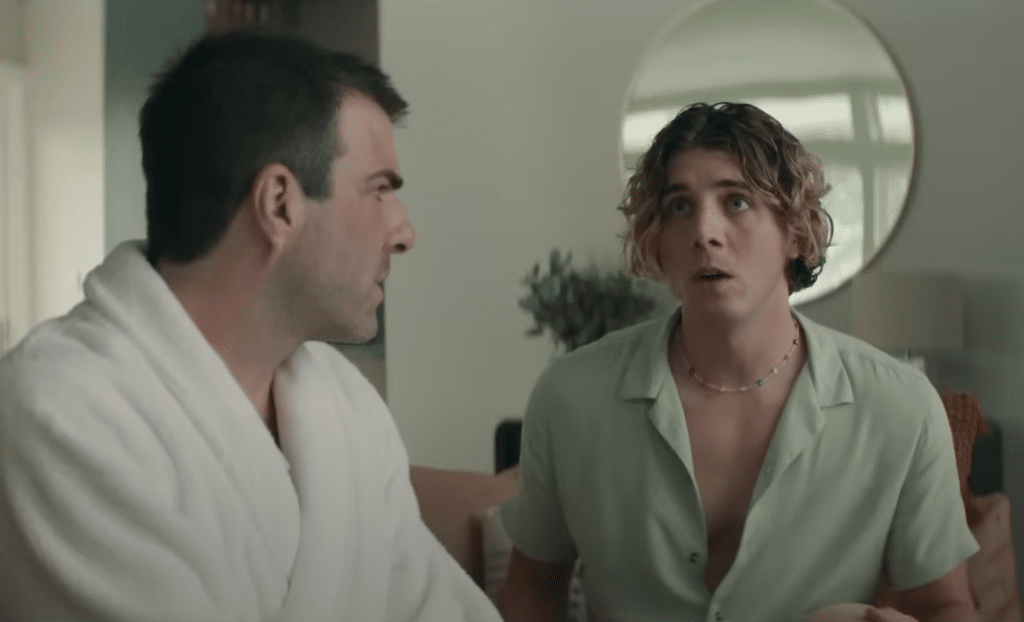 With Cameron's help, Gary joins a dating app and quickly schedules a hookup with a handsome stranger (Sebastian Arroyo). However, things go downhill quickly, and soon, the men are hiring a so-called expert to hide a dead body because the hookup guy is (you guessed it) dead and bleeding all over the Mountain Ashwood flooring.
There is some light at the end of the tunnel, as Gary tells Cameron he is glad he met him "even if multiple people are dead because of it." Later in the trailer, he even refers to himself as a "cool, hot zaddy." We love to see him coming out of his shell!
Watch the full Red Band trailer for Down Low here.
Gay Sex Apps and Dead Bodies
Down Low was co-written by The White Lotus Star and Phoebe Fisher. It also stars Judith Light, Simon Rex, Christopher Reed Brown, and Audra McDonald.
Gage described the comedy as an unhinged take on Pretty Woman. "Originally, we really wanted a fast-paced, f**ked-up rom-com. But it was always about two very different people that are in this larger-than-life, crazy circumstance and what they learn from one another within this 24-hour period," Gage told Vulture. "There's a little bit more heart in this version. It was needing a little bit more of a soul and a little bit more redeemability from the characters."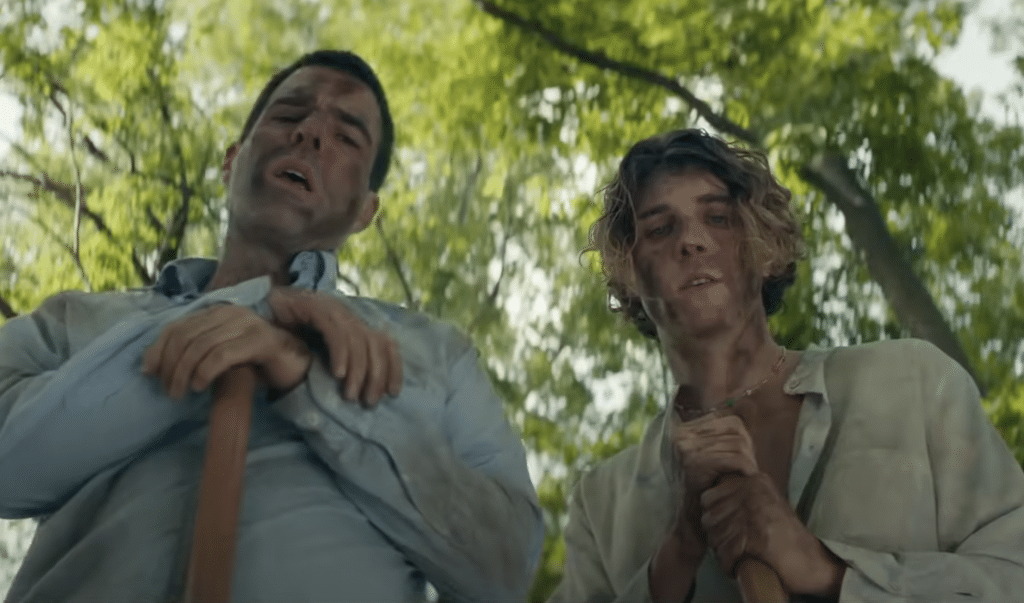 Down Low will be available to stream on October 10.
More Stories: