Attention Grishaverse! Season two of Shadow and Bone is here and we have the inside scoop from the cast and creators.
The next installment picks up right where the first season ended. Alina and Mal are on the run, determined to bring down the fold and save Ravka. General Kiligan did not die in the fold and is back and more terrifying than ever. The Crowes are in Ketterdam, fighting for their lives and forming new alliances. The series is based on Leigh Bardugo's bestselling novels. According to Netflix, the second season will bring new friendships, new romance, bigger battles, epic adventures — and a shocking family secret that could shatter everything.
Related | Paul Mescal and Adam Scott Play Lovers in New Thriller, 'Strangers'
Gayety spoke with the stars at the junket and world premiere in Los Angeles – the series' first wrld premiere since it was released in 2021. Shadow and Bone is renowned for its representation of race and sexuality in the TV adaptation.
"We have enough bulls***t in our own world" Bardugo told editor Caitlynn McDaniel. "I didn't feel like we needed an extra dose of homophobia in the Grishaverse. I want it to be a place where people get to find love, and meet-cute, and have angst and all of those good things." She continued, "I just never felt like that was something that would be a part of the Grishaverse, and I didn't want it to be."
The Queer Romance Coming to Season Two
Season one introduced viewers to Jesper Fahey, a bisexual member of the Crowes who knows how to work a gun. Jesper is a major flirt and even has a steamy make-out with a stableman. "In the world of the show, people are allowed to love who they want to love, and they're allowed to be who they want to be, Kit Young, who plays the charismatic sharpshooter, said.
Joining season two is Jack Wolfe as Wylan Hendricks, a young aristocrat and explosives and demolitions expert. Wolfe also shared his excitement over playing a queer character, especially one that is a bad*ss risk-taker. While fans of the book series know that Wylan will grow close to Jesper as the story progresses, series watchers will have to wait and see.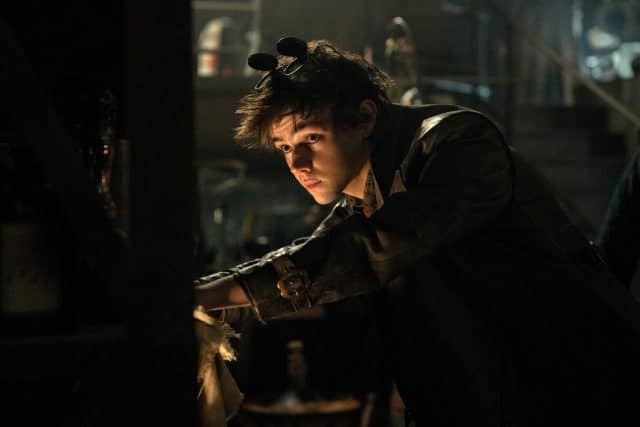 "It means a lot to me that he's also able to engage in a relationship that means something and is safe and is playful. They both just get to look after each other whilst the chaos of the Grishaverse goes on around them.
"I remember actually on set, we were filming a scene where Jesper reaches out for Wylan's hand. And there was a bit of me that was like, 'Oh, hold on a second. We're in a new area for Wylan. Would he look around to make sure that's okay here?' And Christina, one of the show runners was like, 'Oh no. In Leigh's universe, that doesn't exist. Wylan and Jesper are never afraid of what their relationship means. They have bigger things to worry about.' They just get to be safe together. And it means a lot to me."
IT MEANS A LOT TO US TOO!
Season two of Shadow and Bone is now streaming on Netflix.