Get ready for an extraordinary cinematic journey as we dive headfirst into the life of Diana Nyad in Netflix's new film NYAD.
Directed by the dynamic duo of Chai Vasarhelyi and Jimmy Chin, NYAD is not just a sports film; it's a remarkable true story of tenacity, friendship, and the indomitable human spirit. Diana Nyad, a world-class athlete, sets her sights on a seemingly impossible challenge at 60: swimming 110 miles from Cuba to Florida, a journey often dubbed the "Mount Everest" of swims. Her goal? To conquer this treacherous stretch of water without the protection of a shark cage.
Diana embarks on a thrilling four-year journey with her unwavering determination, accompanied by her best friend and coach, Bonnie Stoll. Together, they face the open sea, fierce currents, and the ever-present threat of sharks. It's a story of courage and perseverance that will leave you on the edge of your seat.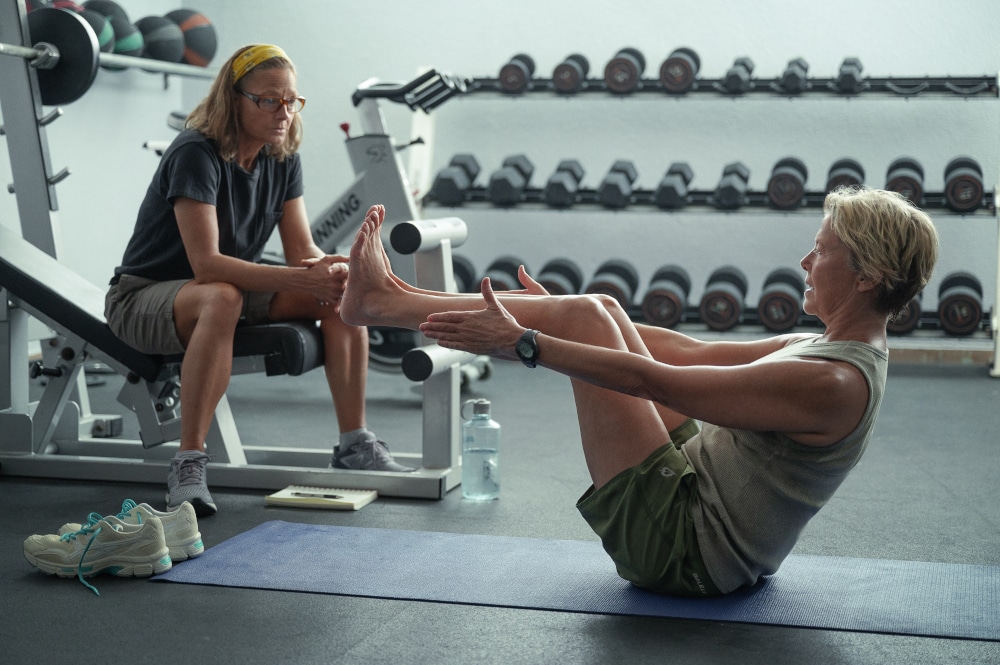 Chatting with the Creators of NYAD
Gayety caught up with Stoll about the opportunity to turn Diana's story into a theatrical film.
"It's an honor that we get to know Diana through this unbelievable film," she told editor Caitlynn McDaniel. "We certainly don't get to know all of Diana. She's just a pretty fabulous person."
The film not only chronicles Diana's courageous swim but also effectively humanizes her by portraying the defining events that shaped her character.
"The parts that were chosen to fixate on in the story, they so worked. They so worked because there's an arc, and she does change. And the change in her life… it's sort of equal to the way her life has been. I think it's a real tribute, real tribute to Diana, to us as friends and to everybody involved in the film."
Bringing Strong, Queer Woman into the Spotlight
Director Chai Vasarhelyi said creating a balance between action and humanity was a great adventure.
"It's always tricky because the tone of this film was really important because we wanted to treat her traumatic experiences with great respect," she said. "We didn't want to diminish them. At the same time, we wanted to celebrate the type of friendship that you don't often get to see in films."
NYAD captures a heartwarming friendship between two older queer women, a relationship often underrepresented in Hollywood.
"But when you're working with the caliber of talent like Annette Bening and Jody Foster, it's just so empowering because you have these performances that bring such depth and commitment to them."
The film boasts an impressive cast that includes four-time Academy Award nominee Annette Bening as Diana Nyad herself. Joining her is the two-time Academy Award-winning actress Jodie Foster, who plays Bonnie Stoll.
"Annette trained for over a year for the physical demands, and also Annette was unafraid of showing a woman who may not be always likable. So it was fun and it was hard, and we had a wonderful team, but we were afforded the time to try to get it right."
Filming From the Water
Not only did this film require a lot of manpower to create an accurate story, it also required working in strenuous environments for days on end.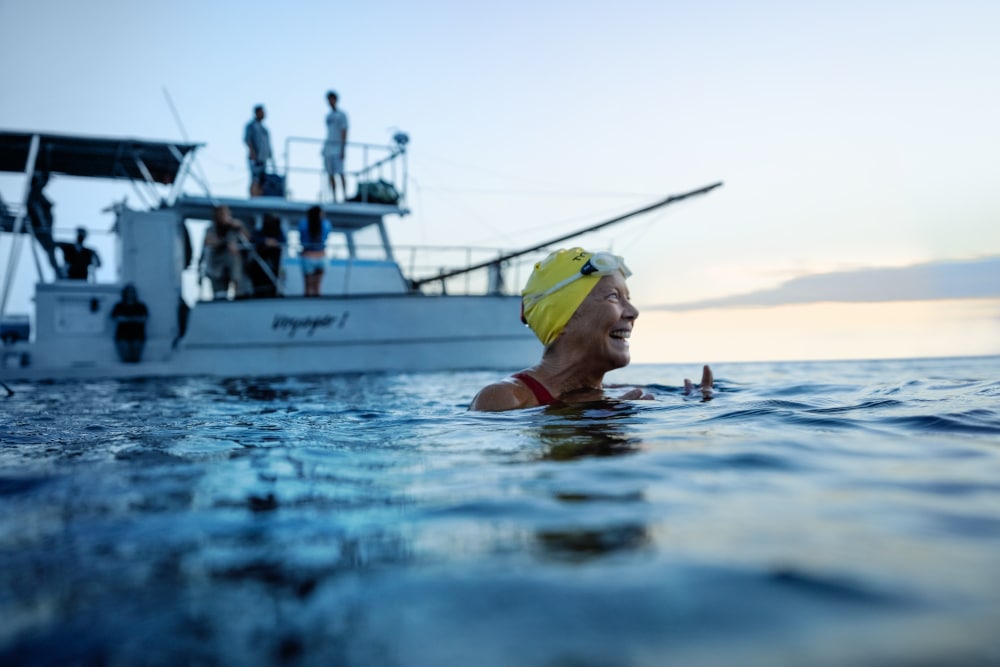 "It's absolutely true what people say that shooting in water is the most difficult environment to shoot in," said co-director Jimmy Chin. "And not only did we face the challenges logistically of how to shoot in the water, but we were also really hoping to push the cinematography. So we spent a lot of time on the storyboards on getting the right equipment and actually pushing the technology available to be able to shoot the way that we shot, and really try to, on one end, to capture the scope and scale of this huge ocean and this little person trying to swim across it. But we also wanted to get uptight and close and bring people into the moment with Diana's experience. So that was a good challenge for us."
NYAD marks the narrative directorial debut of the Academy Award-winning documentary duo, Vasarhelyi and Chin, known for their acclaimed work on films like Free Solo and The Rescue. With a screenplay by Julia Cox, adapted from Diana Nyad's memoir "Find a Way," this film promises to be a cinematic marvel that will inspire and captivate audiences worldwide.
NYAD is streaming now on Netflix. Watch our interviews below!
More Stories: