Singer-songwriter and daughter of Elvis and Priscilla Presley, Lisa Marie Presley, passed away at the age of 54.
Today, January 12, 2023, the tragic news of the passing of Lisa Marie Presley, daughter of the King of Rock and Roll, Elvis Presley, shook the music world. Emergency responders took the singer to the hospital earlier this morning after suffering a potential heart attack.
Her mother, Priscilla Presley, confirmed in a statement to PEOPLE Thursday evening, saying, "It is with a heavy heart that I must share the devastating news that my beautiful daughter Lisa Marie has left us." She continued, "She was the most passionate, strong, and loving woman I have ever known. We ask for privacy as we try to deal with this profound loss. Thank you for the love and prayers. At this time, there will be no further comment."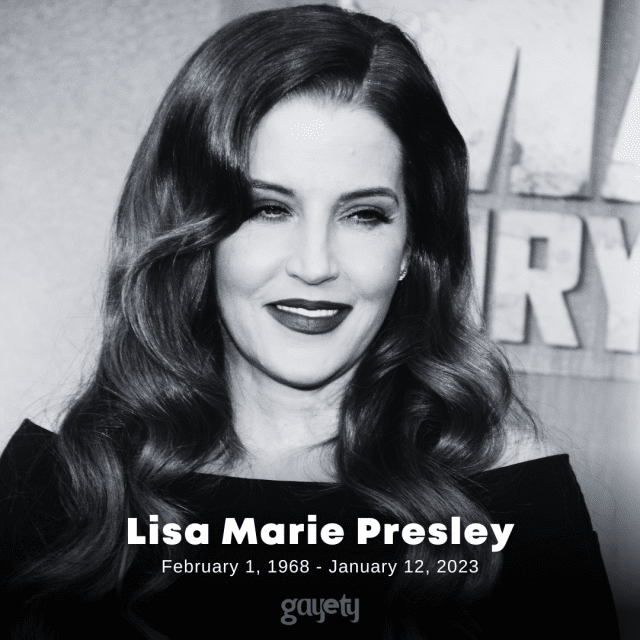 Who Was Lisa Marie Presley
Born on February 1, 1968, in Memphis, Tennessee, Lisa fell into the music and entertainment industry at a young age. Still, she grew up in the shadow of her father's legacy.
But Lisa Marie was more than just the daughter of Elvis; she was a talented singer-songwriter in her own right. Her career began in the early 2000s, and she released her debut album, "To Whom It May Concern," in 2003, which was a commercial success, reaching the top five on the Billboard 200 chart and receiving critical acclaim. She released two more albums, "Now What" in 2005 and "Storm & Grace" in 2012, showcasing her unique style and powerful vocals. Throughout her career, critics and her peers recognized her talent, and she received several awards and nominations.
Related | 11 LGBTQ Celebrities Who Died in 2022
With her powerful, smoky vocals and raw, confessional lyrics, Lisa Marie Presley was a force to be reckoned with. Her songs were a reflection of her life, her struggles, and her triumphs. Tracks like "Lights Out," "Siren," "You Ain't Seen Nothing Yet," "Dirty Laundry," and "So Lovely" were anthems of resilience, and they resonated with fans all over the world.
In addition to her music career, Lisa was also a devoted mother and was involved in various business ventures, including fashion and fragrance lines. Despite facing personal struggles and challenges, she remained dedicated to her family and career, leaving a lasting impact on the entertainment industry.
Lisa Marie Presley's Best Songs
As a singer-songwriter, Lisa Marie Presley had several popular songs throughout her career, but some of her most well-known and critically acclaimed tracks include:
"Lights Out" from her debut album "To Whom It May Concern" (2003)
"Siren" from her second album "Now What" (2005)
"You Ain't Seen Nothing Yet" from her third album "Storm & Grace" (2012)
"Dirty Laundry" from her third album "Storm & Grace" (2012)
"So Lovely" from her third album "Storm & Grace" (2012)
Remember Lisa Marie Presley as a talented musician and a beloved member of the Presley family. We at Gayety extend our deepest condolences to the Presley family and Lisa's fans worldwide. Her music and her legacy will live on forever. Rest in peace, Lisa Marie Presley.