In a recent interview, Hugh Grant revealed he watched his gay love scene in A Very English Scandal with his father.
Actor Hugh Grant has been exceptionally busy promoting his new miniseries A Very English Scandal. The show is based on the real-life same-sex love affair that shook the British public in the 1970s. Grant plays Jeremy Thorpe, a former member of the British Parliament who found himself entangled in a same-sex sex scandal with a very young man.
The 57-year-old Golden Globe winner opened up about the experience while chatting with Stephen Colbert at The Late Show. While discussing A Very English Scandal, the actor revealed he watched his same-sex sex scene with his 89-year-old father, Captain James Grant.
Related | KJ Apa Wants to Be Part of a Gay Storyline on Riverdale
"There are scenes with me entering the room — famously this all happened — with a jar of Vaseline and a towel," Grant told Colbert. "And one thing leads to another and it's all there."
He continued: "I did have to watch it with my 89-year-old ex-military father. I go around on Sunday night, and he said to me, 'Now, you're in this bugger's film. And I said, 'Yes, that's right.'"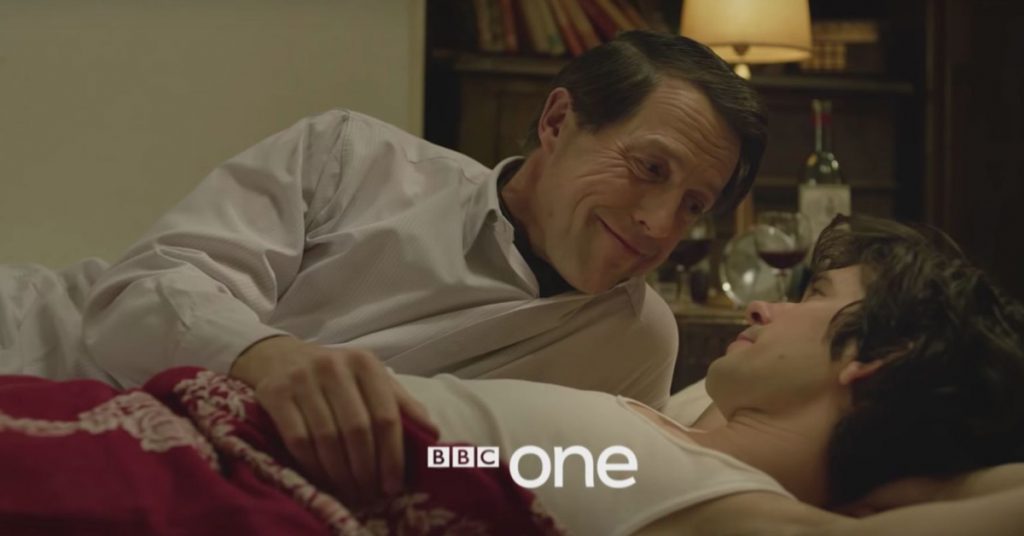 "He said, 'Well, let's watch it.' And I said, 'No Dad, you're not going to like this.' And he said, 'No no no, I'm a very supportive father. I want to watch it. I've got a television set upstairs. If you show me how to work it, we'll watch it together.'"
And, that's precisely what they did.
"I had to watch me with the Vaseline and the towel with my father," Grant remembered.
Watch the interview below.