Last year, Timothée Chalamet's "peach scene" in Call Me By Your Name made theaters goers incredibly thirsty.
Evidently, Harry Styles was equally intrigued by Timothée Chalamet's performance.
If you're not familiar with the CMBYN peach scene, here's a refresher. "The Peach Scene" is one of Call Me By Your Name's most intense moments. In the film, Armie Hammer's character Oliver tastes Elio's (Chalamet) cream-filled peach, however, he devours the entire peach in the novel.
In an interview for the Toronto International Film Festival, Call Me By Your Name, author André Aciman explained that the peach scene is important because "it's so shocking. But also at the same time because it's the most intimate moment between the two men."
"In the book, Oliver eats the peach," Aciman adds. "And he says, 'Because I want every part of you. If you are going to die, I want part of you to stay with me in my system.' And that's the way I'm going to do it. In the film, he just puts his finger and almost licks it. And that is good enough for the cinema. We don't need to see more. It is absolutely superlative."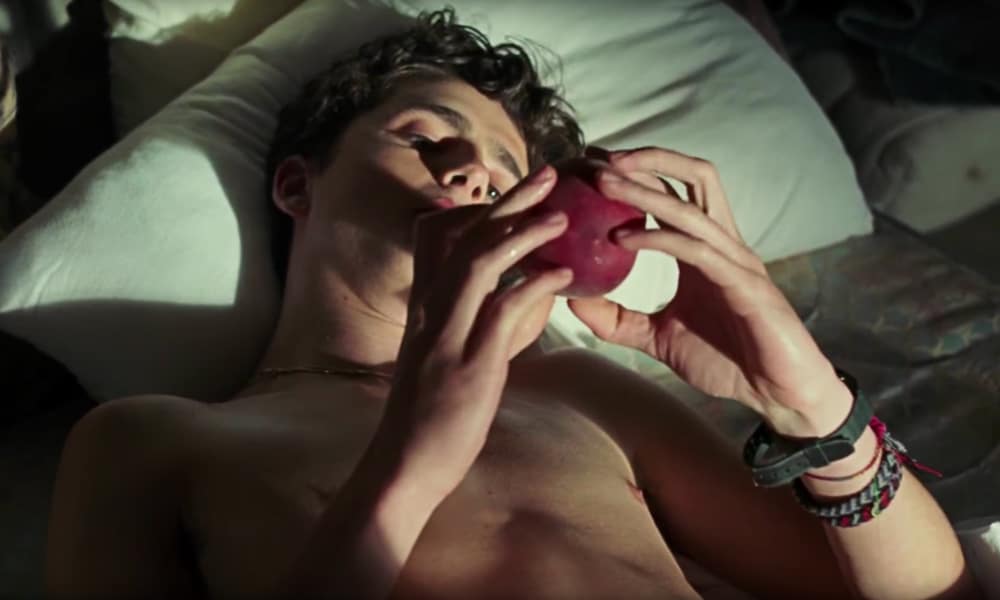 For the November issue of i-D, Styles interviewed Chalamet and asked him about his upcoming film Beautiful Boy, Call Me By Your Name, and its rumored sequel. In regards to the sequel, Chalamet replied, "We made the first movie in the humble hope that fans of the books would go and see it. I would love to do a sequel, that challenge is really exciting to me."
Styles quickly shifted and referenced the peach scene from the first film. "Can you still eat peaches?" he inquired.
Chalamet laughed and replied, "Umm I can, but not without thinking about it…"
Related | Harry Styles Admits He's 'All A Little Bit Gay'
"I've had a hard time…" Styles admitted.
Chalamet continued, "That's the most awkward scene to see with your parents in the whole world. My poor father…"
"I'm sure he's done it too," Styles joked.
Check out the full interview here and watch the interview below to learn more about the making of the now-famous "Peach Scene".