Pack your bags and catch the first transport — this is one vacation experience that is truly out of this world. At this year's D23 convention, Disney released a ton of new information about the upcoming Star Wars franchise. From a behind-the-scenes look at this December's The Last Jedi, to the reveal of Star Wars: Galaxy's Edge, an immersive 14-acre theme park extension expected to open in Disneyland and Disney World in 2019, fans had a lot to digest.
But that wasn't all. Fans planning to visit Star Wars: Galaxy's Edge in Orlando, Florida's Disney World have one more reason to start planning their next trip (and saving their pennies). In addition to the already immersive theme park (where your choices and interactions will impact your visit), guests will also have the opportunity to continue their very own Star Wars story at a Star Wars-themed resort hotel. And we're not talking simple Darth Vader bedspreads and lightsaber night-lights.
Here's everything we know about the upcoming Star Wars resort:
Your decisions matter: Similar to how the theme park will operate, guests' choices, decisions and actions will impact their experience. For instance, if you get a high score during one of the theme park's interactive rides, you may be picked out in the hotel lobby and praised as a hot-shot pilot by "alien" guests or staff. The extent that this "choose your own adventure" customization actually goes is still unknown, but it makes the experience endlessly enjoyable, no matter how many times you visit.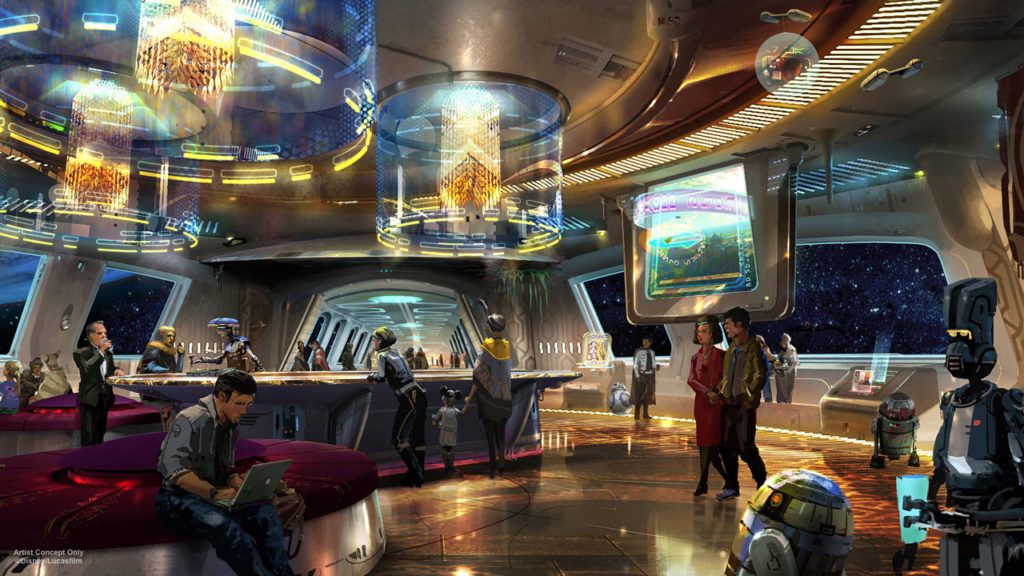 Leave Earth behind: Sure, you'll still be in Orlando, but once you're inside your hotel, it'll be hard to remember that fact. Everything from guest rooms to dining, hallways to elevators — it's all designed to transport you to the galaxy far, far away, specifically, in a giant starship. And what's even better? While the hotel will certainly have windows, don't expect to see the tourist-filled streets of Orlando — every window will look out into space, making guests feel truly immersed in the Star Wars experience. As if the costumed characters, aliens and droids all around you weren't enough!
Related | Gay Couple Live Streams Disney World Proposal
Get ready for a makeover: In keeping with the "100-percent immersive" promise, guests will also get a wardrobe update, allowing them to "dress in the proper attire" to fit in with the other denizens of the galaxy. We're already picking out the perfect shoes to match our Jedi robes!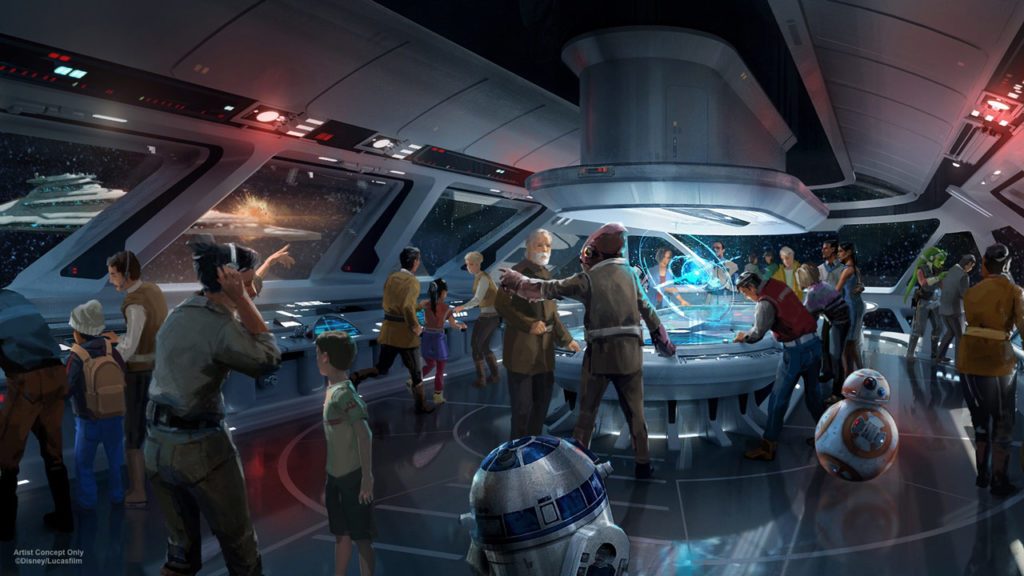 Blue milk for everyone: We know the theme park will have a Star Wars-inspired cantina, and we can only imagine the resort will have similar food and drink options. Guests will finally get to order a glass of blue milk, just like Luke Skywalker did back in Chalmun's Cantina on Tatooine. And if we've learned anything from The Wizarding World of Harry Potter at Universal Studios, we know that good food and themed beverages are integral parts of the experience. Will blue milk be the new butterbeer? Only time will tell!
There's still no opening date for the resort, but you can definitely start planning your trip to Star Wars: Galaxy Edge, coming to our galaxy sometime in 2019.