In celebration of Pride season, cities around the country are adopting rainbow crosswalks.
This year, Phoenix, Denver and San Antonio will join the ranks of other proud cities (San Francisco, West Hollywood, Long Beach, Seattle, Key West, Miami Beach, Philadelphia) and paint bustling intersections in rainbow colors.
Officials in Phoenix, Arizona, voted unanimously to add rainbow crosswalks in two areas in Phoenix. Thanks to the fundraising efforts of Aunt Rita's Foundation, the Phoenix Pride Community Foundation and one-n-ten, the costs associated with the crosswalks and their maintenance are covered.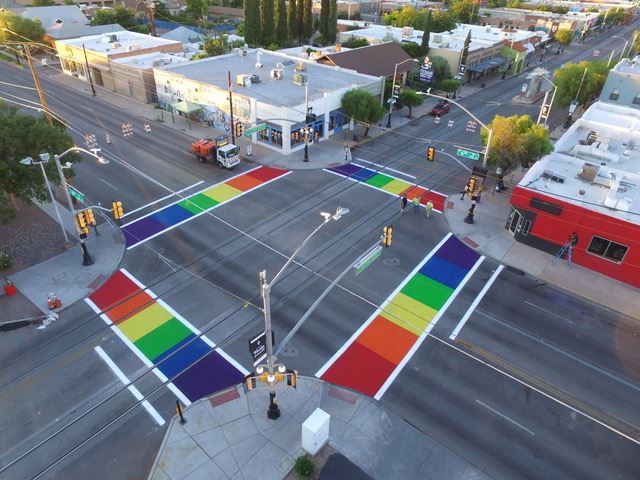 "Phoenix is committed to ensuring equal treatment and rights for everyone and showing our support because we know diversity makes us stronger," rejoiced Mayor Greg Stanton.
Related | Google Celebrates Pride With Rainbow Flag Doodle
The City of Phoenix has not settled on a design or announced a timeline for the installations. However, the city did confirm their locations at the intersections of 7th Avenue & Glenrosa Avenue, and Central Avenue & Portland Street.
Meanwhile, Denver, Colorado is moving forward with crosswalks of their own. The Baker Broadway Merchant Association, Buffalo Exchange and City Council members Robin Kneich and Jolon Clark joined forces to raise funds to paint the crosswalks at the intersection of Broadway and Irvington.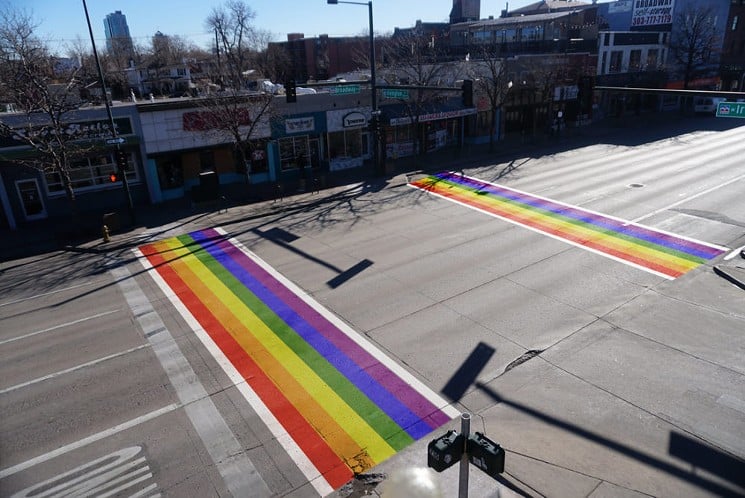 "This is … a way we as a city and community can wrap our arms around the LGBTQ community and tell them how much we value them, care about them and love them in a very tangible and visible way," said Clark.
Every year on June 15, the intersection is also home to a "crosswalk walk-off" fashion event to celebrate Denver Pride.
Related | Skittles Gives Up the Rainbow for LGBT Pride
Following in Phoenix and Denver's footsteps, San Antonio, Texas is also creating a rainbow crosswalk at the intersection of Main Avenue and Evergreen Street. To fund the installation, organizers sold "fiesta medals" that feature an artists rendition of the future crosswalk. Fiesta medals are a local tradition, going back to 1971, and many local enthusiasts collect them at the city's annual Fiesta festival. At $15 a piece, the trinket has done its job and raised more than half of the forecasted $20,000 required for the city's crosswalk.
"We were trying to raise some money with Fiesta coming up," said San Antonio Councilmember Roberto Treviño. "The tradition of doing Fiesta medals, we thought it would be a great way to raise money."
As colorful crosswalks pop up in intersections around the world, it's only a matter of time before a bright rainbow appears to your city.