Men's balls explained: saggy balls, low-hanging Balls and scrotum changes.
We don't want to bust your balls, but how much do you really know about your testicles? Guys talk about them, brag about them, and let clichés about them flow from their lips without a second thought. So take a few moments to think about your down under friends with 12 ball busting facts about your testicles.
Why do they sag?
A man's testicles move throughout the day within the scrotum in order to maintain optimal temperatures to create more sperm.
When testicular temperature is too high, healthy sperm cannot be made. Testicles "drop" within the scrotum and hang further from the body to maintain a cooler temperature.
When testicular temperature is too cold, testicles need to become warmer to support the creation of new sperm. This is when testicles pull in closer to the body, drawing from body heat to maintain ideal temperature.
The spermatic cord connects testicles to the inguinal canal, and works with the cremaster muscle that can become more tense or relaxed to help position the testicles within the scrotum.
What's in a name?
"Testicles" and "balls" are not exactly the same thing. When men refer to their balls, they are actually talking about three things: the testicles, the scrotum (the skin sac that protects the testicles), and tiny tubes called epididymides that are attached to the testis and which store and transport sperm. Your testicles are your big T (testosterone) producers, so you want to make sure they are healthy and happy at all times!balls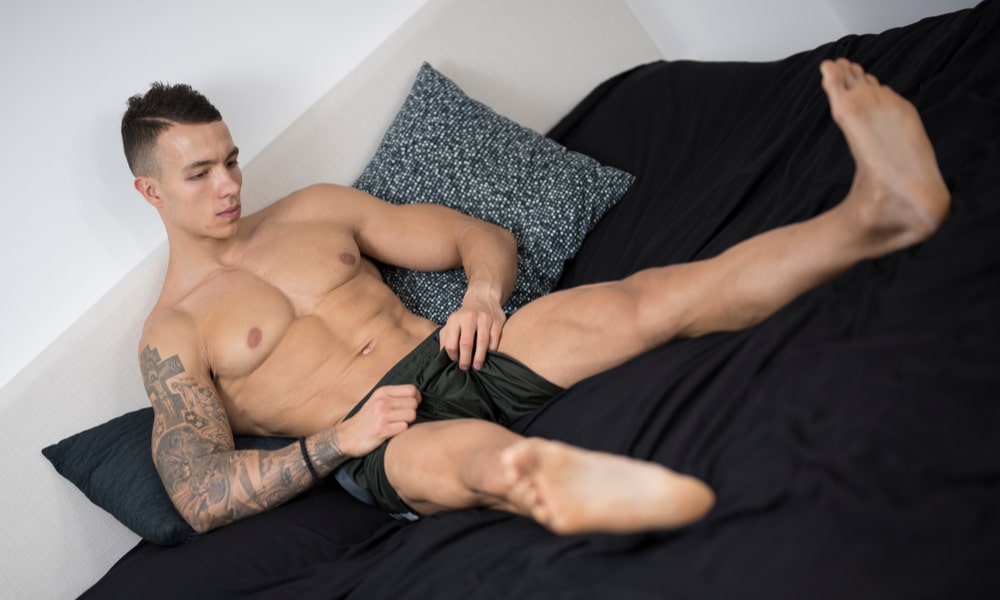 Location, location, location.
Real estate agents know the value of location, and your testicles aren't much different. That is, your left ball and your right ball are not exactly next to each other; one hangs a little bit lower than the other (or one is higher than the other, your preference). Each ball is approximately 2 inches by 1 inch, although typically the right testicle is slightly bigger than the left one. However, even though you might think the bigger testicle should hang lower, that's not the way nature works. Go figure.
Related | How Running Affects Your Penis and Balls
Bigger is not necessarily better.
According to a study conducted at Emory University, men who have smaller testes are more likely to be nurturing dads than are their peers who have bigger balls. The authors evaluated 70 American men, including Caucasians, African-Americans, and Asians, who had a child aged one to two years old. Analysis of brain function while the men looked at children and questionnaire responses resulted in the conclusion that "the biology of human males reflects a trade-off between mating effort and parenting effort, as indexed by testicular size and nurturing-related brain function, respectively."
Two's company, three's a crowd.
An extremely rare condition called polyorchidism is defined as the presence of three—or more—testicles. Only about 200 cases of polyorchidism, more or less, have been reported in the literature, so it's not a condition that should keep you up at night with worry. However, if you have a unexplained mass in your scrotum, it's something your doctor may want to rule out.
Pain in the balls.
If you experience painful, swollen, and/or inflamed testicles for no apparent reason (e.g., no one has kicked you down under), it may be time to see your doctor. Trauma to the testicles, such as from a sports injury, usually results in temporary pain. In other cases, however, such as testicular torsion (twisted testicle, which is a medical emergency), epididymitis (inflammation of the epididymis, often caused by a sexually transmitted disease such as gonorrhea), inguinal hernia, testicular tumor, or orchitis (inflammation of the testicle from bacteria or viruses), a doctor should be consulted. Sometimes it's more than just a pain in the balls!
Related | How to Prevent Your Sweaty Balls From Stinking
Bumpy balls.
One thing you can say about a man's balls—they aren't attractive. All those little bumps and lumps sure don't make them pleasing to the eye, but are they dangerous as well? In most cases, no. However, an enlarged vein called a varicocele can have a negative impact on fertility and be painful. Tiny fluid-filled bumps called epididymal cysts are unsightly but harmless. Only 4 percent of the unusual lumps on the balls end up being cancer. If you have a lump or bump that doesn't seem quite right or that has appeared suddenly or changed in size or shape, be sure to have your doctor check it out.