Welcome to the future! Okay, so we don't have hover cars — yet. But we're getting closer and closer with incredible technology that allows us to do things our ancestors never even dreamed of — they were too busy churning butter and worrying over their horses and buggies, for one thing, and they lacked the imagination, for another. Seriously, would they ever have thought of watches you could control with your own voice? Poor Jedediah would've had a heart attack!
Yet nowadays, in the year of our Lord 2017, we're taking for granted technology that would've had Jedediah crying "witchcraft" and summoning the town constable. Enough about Jedediah though — let's talk the Martian mVoice Smartwatch with Amazon Alexa. First of all, it's on sale for $129.99, 55% off an MSRP of $295. That's a cool $165 off. Secondly, you can tell it to do things and it'll obey like the sex robot you sometimes fantasize about during those interminable traffic jams.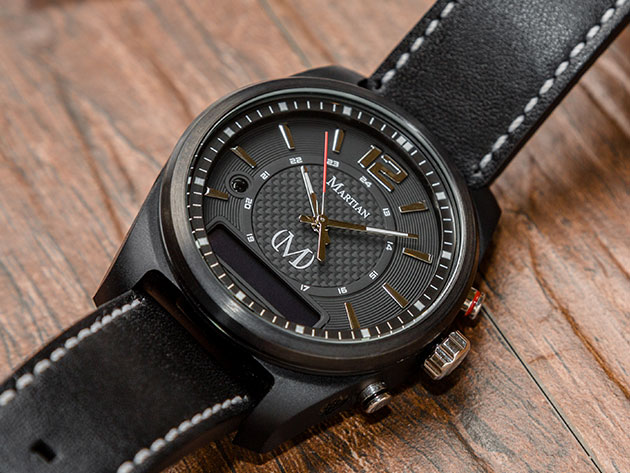 Here are some of its killer features — you can place or accept calls from your wrist, get push notifications from all of your favorite apps, take group photos (with you in them, because what other kinds of photos are there) with a button that acts as a shutter control, integrate it with your Amazon Alexa so you can control all your home devices from your wrist, and tap the Martian menu to call yourself when you can't locate your phone. Pretty cool, right? WE TOLD YOU IT'S THE FUTURE!!!
It also happens to look sexy AF with its leather band with contrast topstitching and uncluttered 24-hour analog clock display. Hop on this incredible deal and get yourself the Martian mVoice Smartwatch with Amazon Alexa right now. Jedediah would be so proud. And totally jealous.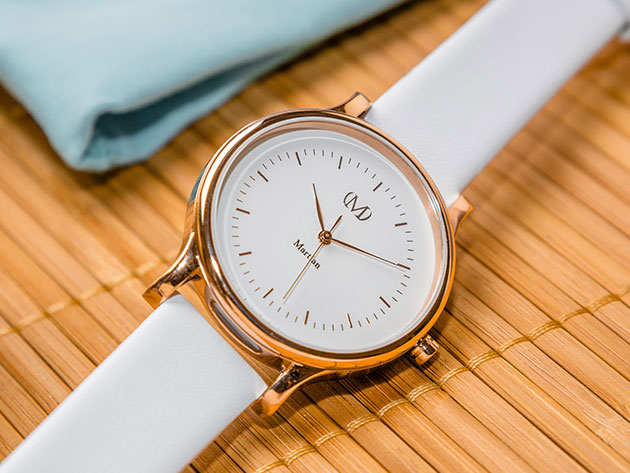 Smartwatches are not usually the most attractive things, unfortunately. Bulky, square, too masculine — sometimes it feels like you have a mini-computer attached to your wrist. And trying to get them to go with your outfit? Forget about it!
Enter the Martian Kindred mVip Hybrid Smartwatch — it's sleek, it's dainty, it's feminine. It's the smartwatch answer to everyone who's wanted a timepiece with some style. It doesn't even really look like a smartwatch! And therein lies its appeal, because while some of us crave all the accoutrements of a smartwatch, we also want it to be a little more chic.
Only $79.99 (discounted 58% from its original price of $195), the Martian Kindred mVip Hybrid Smartwatch features a discreet notification system (an LED notification window on the case side) that allows you to stay connected with no one being the wiser. Four short vibrations and a Vip LED color alert will let you know who's trying to contact you, a button acting as a shutter control lets you take group pictures with you in them, and tapping the Martian menu allows you to call yourself when you lose your phone.
Of course you'll also receive push notifications from your favorite apps and discreetly track your fitness and sleep progress. All while looking 100!
Take advantage of this amazing deal ASAP — your wrist will thank you!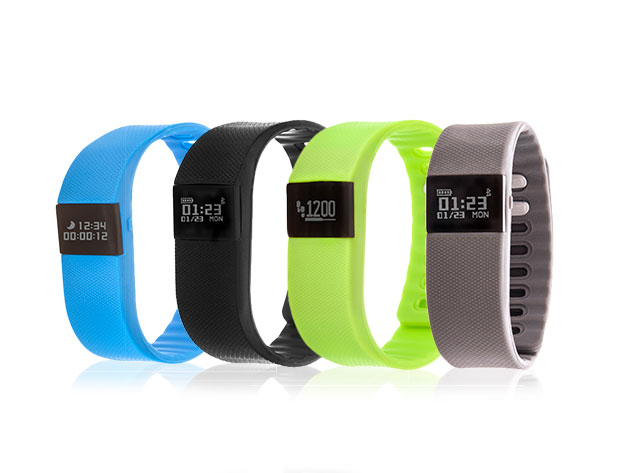 Here's a deal you'll seriously feel silly for passing up! Only $18.99 will get you the Zunammy Fitness Tracker to help you organize and simplify your life. Never tried a fitness tracker before? This is your chance to give one a whirl without putting a huge dent in your wallet. You'll be saving 62% off the original price of $50!
The Zunammy Fitness Tracker syncs directly to your smartphone and includes time display, alarm, phone and message alerts, while also keeping track of your daily steps, distance traveled, calories burned, and sleep patterns. Monitor your activity progress and sleep habits with this comfortable-to-wear, easy-to-use fitness tracker and never be left in the dark.
Keeping in tune with your activity level and sleep progress can also help you to live a much healthier life, what with being able to actually see how much you move on a daily basis, and how well (or not-so-well) you sleep at night. For less than $20 you'll be well on your way to being more active, getting more shut-eye, having more energy, and improving your health overall.
Don't miss out — get the Zunammy Fitness Tracker now!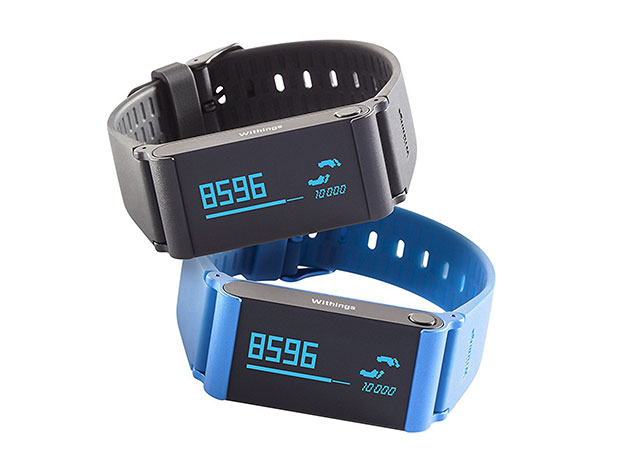 Okay so sexy may be a stretch on this one, but this baby is still worth the fashion faux pas. Serious about your health? So is the Withings Pulse O2 Activity Tracker. This remarkable device goes above and beyond the typical fitness tracker, and is a must-have if you're trying to take a more active role in your well-being. For only $53.95 — 46% off the $99.95 asking price — the Withings Pulse O2 Activity Tracker can help you reach the next level in health and fitness.
We all want to be our healthiest, most productive selves, but that can be difficult when we live busy lives that barely give us a moment to ourselves. With a comprehensive fitness tracker like the O2, you have the best ally in ensuring you get the most out of your workouts AND your downtime.
The O2 tracks steps, calories burned, and distance traveled, but also monitors your heart rate and blood oxygen level, letting you know exactly how hard your body is working and how you can maximize your efforts. Naturally, it also tracks your sleep patterns, informing you of quality, duration, and any and all nightly interruptions. If you're a hiker, it also tracks elevation climbed, and if you're a runner, it will let you know your running duration. It does it all!
You won't find a more comprehensive tracker at this price, so make sure you get your hands on this deal right away!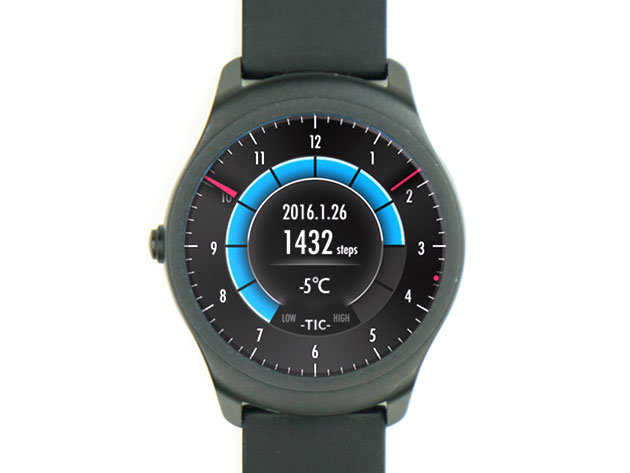 Finally!!! A smartwatch that isn't a total drag to use! It's a miracle!
This Kickstarter success story (it raised more than $2 million of its $50K goal) might just be the answer to all your smartwatch needs. Sleek, powerful, and affordable, the Ticwatch 2 Active Smartwatch has revolutionized the smartwatch game.
This user-friendly and highly addictive device will help order your life into one well-oiled machine, letting you leave your phone at home and essentially forget about it. Voice interaction allows you to set up appointments, reminders and notifications without having to rely on manual entry like some type of plebeian. And if you enjoy an active lifestyle? The Ticwatch 2 has you completely covered. It tracks heart rate data, speed, distance, and GPS location and shares it all with your phone and Google Fit. You can also sync it up with Bluetooth headphones to have all your tunes with you while you're working on your fitness. Plus, wireless charging will have you up and running in 80 minutes.
The best part is that it's tuned into your movements, making it a breeze to use. Access apps with the touch of a finger, knock it twice to shuffle songs, and flip your wrist to answer or hang up a phone call without having to worry about fumbling around to find your phone. And it's got style, baby! The Ticwatch 2's top-of-the-line design will have other watches SHOOK. When will Rolex???
Retailing for $199.99, it's now available at 15% off for $169.99. That's $30 saved to spend on, like, six pumpkin spice lattes. Hey, it's fall, you know you'll be wanting some!
Seriously, though, this deal won't be around long for the smartwatch of your dreams. Do yourself a favor and pounce on it now.