Joe Locke is already thinking ahead of Heartstopper.
Joe Locke recently wrapped filming for season two of Heartstopper, but he is already back on another television set. According to Entertainment Weekly, the young actor is knee-deep in filming for Marvel's next superhero spin-off, Agatha: Coven of Chaos. Landing a role in an acclaimed Netflix series and then going on to snag a lead part in a Marvel series is no small feat. The 19-year-old said his determination and hard work paid off, but he also thinks luck had to be on his side.
"I've just been one of the luckiest people in the world in the last two years."
Yet, with more filming for Marvel and another season of Heartstopper already greenlit, Locke is still looking to the future and discussing his next role. Or what he would like to see himself take on next.
"I have a real problem with feeling like I have to prove myself to the world — to myself mostly," he said. "So I would love to do a job that is so far the opposite of Heartstopper, or opposite of Agatha, that I could show some versatility." "I'd love to do a dark role," he continues. "I just want to bring a lot of edge to it and show that I can do more than just sickly sweet."
Who would you like to see him play next?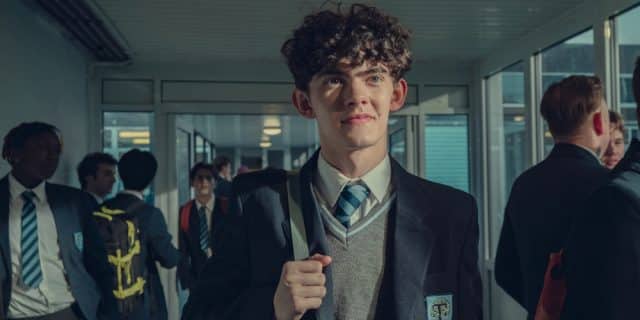 Who is Locke's Character on Coven of Chaos?
Hollywood has been known to typecast actors, so Locke's concerns with casting directors seeing him as the "queer nerdy one from Heartstopper" is understandable. However, his upcoming superhero series will add some diversity to his resume. Even though we still do not know who he is playing.
We do know Coven of Chaos will see the return of Agatha Harkness (Kathryn Hahn), and thanks to a juicy interview between Patti LuPone and The View, we know it will follow a coven of witches. Aubrey Plaza, LuPone and Locke are reportedly in the coven.
"She didn't have any filter because she's Patti LuPone," Locke recalled. "She's incredible and I love her so much, but I remember we were all on set watching the interview and we were like, 'No! Patti, stop talking! Stop talking!' It was like a ripple effect. Everyone was like, 'Have you seen Patti's interview?!'"
View this post on Instagram
Needless to say, Locke is not sharing any more details about the upcoming project and refuses to acknowledge the rumors that he is playing Scarlet Witch's son, Wiccan.
But he is eager to share details about Heartstopper season two – which will be a bit darker this time around. Relationships are tested and Charlie is battling an eating disorder and depression.
"Our show's never gonna be Euphoria," Locke says, laughing. "But I think that our show's maturing with the characters. As they grow up, the show grows up. Season 2 is not just gentle, but it's still gentle."
Heartstopper season two will premiere on Netflix on August 3.
More Stories: 
Sparks Fly Between Jonathan Bailey and Matt Bomer in Steamy 'Fellow Travelers' Teaser
New 'Doctor Who' Trailer Teases Just How Queer the Anniversary Special Will Be
Meet the New Addition to 'Queer Eye' Host Tan France's Family