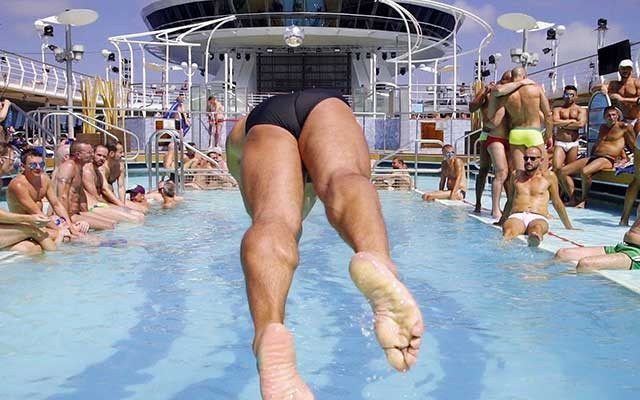 Travel
10 Things You Should Know Before Going on a Gay Cruise
By
|
Not only have I worked on two cruise ships (as an entertainer, 'cause duh), but I also happen to have an extensive knowledge on how gay cruises are operated from the inside out. Since summer is fast approaching, I figured I'd share my two cents.
Cruising at sea is not the same as cruising on land. First of all, you don't have to "cruise" while on a gay cruise like Atlantis Events (the best). Everyone is pretty much guaranteed to be looking for a good time, regardless of who they came with.
Look, you're on a romantic getaway. Whether you're traveling with your man or planning to party with friends, you will find whatever it is you're looking for. But first, you have to know what you want. First things first …
1. Itinerary is everything.
Don't worry about finding cute guys to party with. Trust me, you WILL. That's guaranteed. If you're spending $1000 for a nine-day trip overseas, you better make it worthwhile in other ways. Be sure to choose the best itinerary for what you and your party want to do.
Whether it's beaches in the Caribbean or exploring castles in Europe, let it be a vacation first, and a party second. You don't want to stay on the ship the whole time — I mean, you can, but the party is always going to be there when you get back. Besides, most of the fun will be at night anyway.
2. Understand the theme nights and think outside the box.
After you buy your tickets, you will get an itinerary letting you know what type of events there'll be, along with dress code. Most cruises will have different themes based on the type of clientele they have (yes, cruise directors get the skinny on who's coming weeks in advance and plan accordingly).
You might have disco nights, white parties, even random themes with puns galore: "Jungle Fever," "Star Wars," etc. Make sure to bring costumes, otherwise you'll be the only one in "normal" clothes. Almost, everyone is either dressed to impress or dressed to disrobe.
A disco night isn't just platforms; it's Cher in platforms. "Jungle Fever" isn't just a wife beater and short brown shorts; it's shirtless Tarzan.
3. Pack one of everything.
Packing accordingly is the one thing many gay cruisers forget: Day clothes, swimwear, shoes, costumes, accessories, night attire, button ups, dress slacks, suit jacket, ties, many kinds of underwear, etc. Be sure to bring everything you can, even if you tell yourself you're not going to "dress up."
4. It's a ship. Not a boat.
Don't call your ship a "boat." That's the first rule they taught us while working on a cruise. Boats are those things on the side of the ship that might save your life, but she's more luxurious than that; She's a SHIP. Practice, practice, practice ….
5. Plan group costumes accordingly.
We all want to have awesome photos of our adventure when we get back to the real world, which is why group costumes are crucial, but you need to plan in advance. It sounds weird, but it's true.
You need to coordinate because the last thing you want is your best friend to bring his "Cher" too. Why risk it being weird? You want the energy to be up, up, up, all week long. Discuss your plans and make it fun.
Pages: 1 2